I vividly recall memorizing state capitals and locating the U.S. states on a blank map in elementary school. Fortunately, I had a decent memory, so I could recall facts quickly and effortlessly and make the grade. As homeschoolers, though, we take a more relaxed approach to our studies, and memory work is not stressful. As Charlotte Mason homeschoolers, I try to present my children with a feast of ideas and use (limited) curriculum that encourages curiosity and sparks their imagination. Thus far, we have read books pertaining to geography but not started any map work, so when I had the opportunity to review Brookdale House's Charlotte Mason-inspired geography program, I gladly accepted.
I received a free digital download of Drawing Around the World USA from Brookdale House in exchange for my honest review.
What is Drawing Around the World: USA?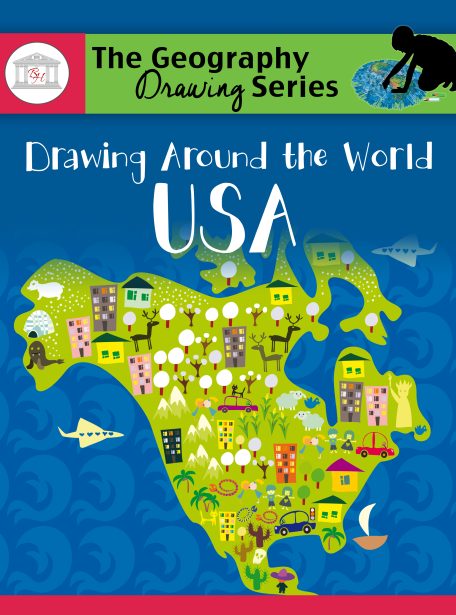 From their
Geography Drawing Series
,
Brookdale House
's
Drawing Around the World USA
 is a geography curriculum designed to help students learn the relative locations of the 50 states and their capitals, state abbreviations, and facts and how to draw the states from memory. The goal, then, is that the student will know how to draw an entire U.S. map without looking.
In addition to the U.S. edition, Brookdale House also offers Drawing Around the World Europe — perfect for when you are studying European history. Both texts are available in either printed book or eBook for your convenience.
In Drawing Around the World USA, there are 4 days of lessons per week. Every day the student locates and labels the state(s) on both a dashed black-and-white map and a blank map so that by the week's end, she is able to draw the state(s) from memory. She also knows the state's capital and abbreviation as well as other important facts.
Here's a breakdown of the recommended weekly schedule:

And here are some screenshots to give you an idea of what's inside:


As you can see, there's a lot of drawing! But it's important to remember this is a geography, not art, program so drawing is not the emphasis.
How We're Using It
While Drawing Around the World USA would probably be most beneficial done on a daily basis — hence their daily schedule, we do our map work 2-3 days a week. Generally, we follow the recommended schedule posted above.
We start off a new week by looking for the states on our U.S. wall map and globe. Then, we fill out our State Fact Table using our children's U.S. atlas. If we have multiple states we're learning, I will break up the information we're searching for so that we only look for 3 or 4 items a day. I found that if we tried to fill out the entire fact table for every state all on Day 1, then my kids were "done" and could not muster the energy to actually draw and label the maps too. So Day 1 combines a little research with our drawing.
On Days 2 and 3, we simply review the state's shape, capital, and location on the map. Then, the girls draw them two more times, each time labeling the state and its capital. This exercise really establishes in their minds the size and shape of the state, and the repetition helps them learn how to spell the names of the state and capital.
On Day 4, we add the state and its capital, plus the other states and capitals we've already learned, to our list. One last time, we draw each state and its capital from memory. On this day, I also review to see what the child has learned about the state.
My Takeaway
Drawing Around the World USA is a complete geography program for children. There's no need to supplement with anything, and it's probably best not to (at least in my opinion). Adding in books and videos are fine but doing so may mean that lessons aren't as short as they could be. As a Charlotte Mason homeschooler, I strive to keep our lessons brief to maintain attention. An average daily lesson is about 10 minutes long.
I really like how this geography curriculum is simple yet effective. In only 10 minutes a day, my girls have started learning the basic shapes and locations of several U.S. states as well as their capitals and abbreviations. I don't have to teach them a silly song or drill them with flashcards. Repetition and practice are sufficient.
I also appreciate that this program requires NO advance planning on my part. Simply print out the week's pages and begin. Everything you need is provided, including maps of the U.S. I have only added a children's atlas although Brookdale House recommends some FREE online sources.
We are making our way slowly through the states, but it's amazing how much my children are retaining. Plus, they're having fun. It's not tedious or boring because everything is hands-on. This curriculum has proven to be very helpful in introducing U.S. geography in a gentle way — without the pressure I had of cramming for a test.
If you're in the market for a U.S. or European geography program, I highly recommend Brookdale House's Geography Drawing Series with studies in European and U.S. Geography.
Social Media

https://twitter.com/BrookdaleHouse
https://www.facebook.com/brookdalehousehomeschool
https://www.pinterest.com/BrookdaleHouse
https://plus.google.com/107691583736742187981/videos


This Post Has Been Viewed 219 Times