My five-year-old daughter has started learning to read. It's been a challenge to find the right curriculum, but we have had great success with her current reading program. I have really wanted a tool to help her develop and hone her new skills and increase fluency. Like most children, Cora loves playing games on the iPad so when I was given the opportunity to review Reading Kingdom, I decided this would be a good option to try.
In exchange for my fair and honest review, I received Reading Kingdom Online for one student for an entire year.
What is Reading Kingdom?
Reading Kingdom is an online phonics and comprehension program for children ages 4-10 designed to teach them how to read and write up to a 3rd grade level.
This learning to read program is perfect for all kinds of readers:
Early readers
Accelerated readers
Struggling readers
To use Reading Kingdom, you need the following:
A computer with a mouse or tablet
Internet connection
A web browser like Firefox or Chrome
The first thing your child will do after signing up is to take a skills survey to assess his or her reading skills level. Based on the results, Reading Kingdom then places the child at just the right level to minimize frustration and boredom.
Reading Kingdom uses a 6-skill model of instruction proven to help children easily master both reading and writing without memorizing difficult rules. Those skills include the following:
Sequencing
Motor skills
Sounds (Phonics)
Meaning
Grammar
Comprehension
While there is great controversy over the best way to teach reading, a wholly phonics-based approach does not work because very few words can be sounded out. Reading Kingdom combines whole language and phonics with other skills for reading and writing success.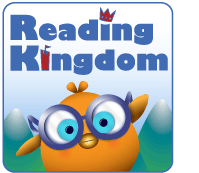 How We Are Using Reading Kingdom
My 5-year-old daughter has been using Reading Kingdom on the iPad for the past month. She usually works on her reading during rest time in the afternoons. About 3-4 days a week, she will go through the exercises and activities, spending about 20 minutes each day. I allow her to work for as long as she desires, and 20 minutes is about her limit.
The program emphasizes independence — letting the child do the work by herself and not helping. So Cora works independently, only asking for help when she needs it, which is rare. Reading Kingdom is like a game for her.
My Takeaway
Reading Kingdom is a great way to help young readers improve their reading and writing skills in a fun way. My daughter likes the animation, and she really enjoys the fact that she can do her lessons all by herself. It's very user-friendly, even for a 5-year-old! As a mom with 3 older children to take care of, the independence Reading Kingdom offers is a definite plus.

I also like how I can already see results. Through all the repetition, she has developed reading fluency and even learned how to spell new words. Plus, she's learning important computer skills and developing computer literacy. In her daily reading, the speed at which she is able to read and comprehend has definitely improved and her confidence boosted, and I'm attributing that, in part at least, to her daily work on Reading Kingdom.

One issue my daughter has had with Reading Kingdom is the repetition. In order to move on to the next level, you have to achieve so many points. But instead of offering a variety of activities to do that, the child must do virtually the same exercise over and over again. While I can see the merits of repetition, after a certain point, it can become monotonous and even the most tenacious child will want to quit. Our solution has been to work until she is tired and then resume the lesson the next day.
How to Connect with Reading Kingdom
https://www.facebook.com/readingkingdom
https://twitter.com/readingkingdom
https://www.pinterest.com/readingkingdom/


This Post Has Been Viewed 49 Times