We're finishing up our second year of homeschooling, and my first grade daughter recently completed her math curriculum. But even after finishing the last worksheet and lesson, I wondered how much she had actually learned. Sure she did all the work, but did she fully grasp the math concepts I taught her?
As a homeschool mom, it's easy to have doubts and fears. I want to make sure I'm doing the best for my children and that they're learning. So when I had the opportunity to review the Adaptive Placement Test and Individualized Lesson Plan from A+ Interactive Math, I felt like this product would help me to get an idea of what my daughter has learned in math this year so we can fill in any gaps she might have.
Note:  I received a 3-month subscription to the Adaptive Placement Test and Individualized Lesson Plan in exchange for my honest review of the math curriculum.
What is A+ Interactive Math?

A+ Interactive Math is an online multi-sensory math curriculum for grades K-12, offering a variety of products for students at all levels including the following:
For the Homeschool:
Family Math Packages (for up to 10 students)
Adaptive Placement Test with Individualized Lesson Plan
Single Grade Level Online Math Curriculum
Full Curriculum Multi-Sensory Interactive Math Software CDs
For Schools:
Placement Test w/ Lesson Plan to "Identify & Close" Learning Gaps
Multi-Sensory Interactive Math Curriculum
Full Curriculum Books
Workbooks (Worksheets & Exam Pack)
Supplemental Multi-Sensory Interactive Math Software CDs
The Adaptive Placement Test & Individualized Lesson Plan — What It Is & How We're Using It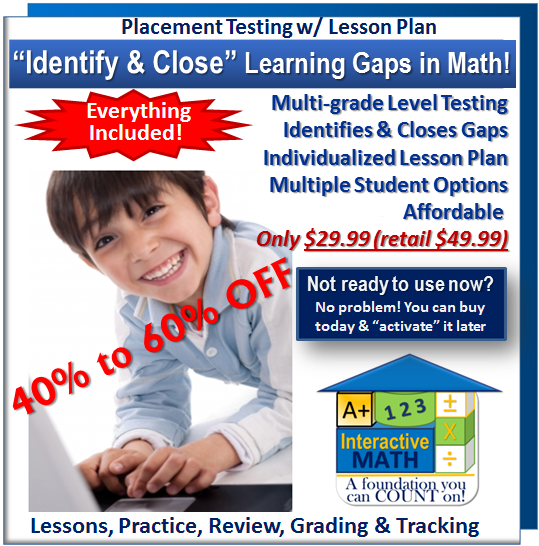 A+ Interactive Math's Adaptive Placement Test with Individualized Lesson Plan is a unique tool to determine current skill level, identify gaps in learning, and then create a lesson plan tailored for the student's specific math needs. Everything for the Adaptive Placement Test is online, and each student has his or her own login and password.
How Does It Work?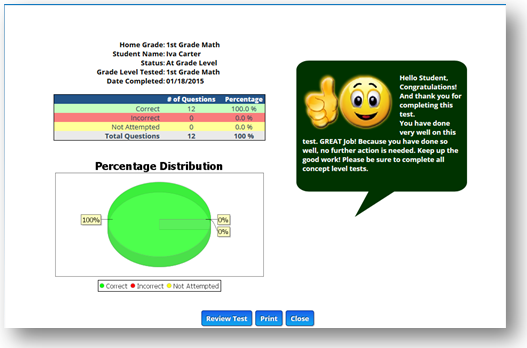 First of all, the student takes a test based on her grade level. The test consists of several math concepts. For first grade, those concepts include number sense, addition, subtraction, time, measurement, geometry, graphs, fractions, and more.
After taking the test, an individualized lesson plan is created for the student based on test results. Through Multimedia Lessons, the student learns math concepts using colorful animation. Following the video, there is an Interactive Q & A to reteach aspects of the math concept that have not been learned. There are also Online Worksheets for additional practice in order to achieve mastery of the concept. Progress Reports track progress and show where your child is skill-wise on the way to his or her goal.
My first grader took the test over the span of a week. The test essentially consists of several mini tests over a number of different math concepts. Because this was my daughter's first experience with online testing, we took it slowly. She did 1 or 2 tests per day. As she took each test, I could tell she felt discouraged and disappointed with her performance. During that time, we both learned a few things:
1. My daughter has test-taking anxiety, especially under time constraints. This is good to know especially since she will have to take state required tests in the coming years. Preparation is key.
2. When you use a math curriculum, the student learns according to how he or she is taught. No matter how good the curriculum, there will be things that get left out, there will be different ways to learn concepts, and there will be skills that the student has not yet mastered. We had not covered some of the concepts the Adaptive Placement Test tested on at all — or not in depth or in a different way.
3. Understanding math vocabulary is key. Even though my daughter understood the math concept, because she was unfamiliar with specific terminology used by A+ Interactive Math, she missed several questions on the test. It's good for students to be familiar with different terms and to learn how to solve problems in different ways. The placement test revealed some weaknesses in both areas.
4. I learned that I shouldn't take it personally if my child does not perform as well as I had thought she would. Honestly, I was very frustrated by how poorly my daughter performed on the test. I even considered (for a millisecond) reteaching the entire curriculum. Instead, I decided to go through the very helpful Individualized Lesson Plan with her, answer questions she had, and learn a few things myself.
My Takeaway

Excellent customer service — A curriculum can be top-notch but if I have a problem or need help and can't get in touch with anyone from the company to answer my questions, then that curriculum is useless. The customer service at A+ Interactive Math really impressed me. I had some trouble logging in and accessing my daughter's test and called A+ Interactive Math. Immediately, I spoke to someone who worked diligently with me until the problem was resolved. Good customer service speaks volumes for a product.
The Adaptive Placement Test has revealed gaps in my daughter's learning that I probably never would have known existed. Now we have something to work toward, complete with an individualized lesson plan for my daughter to follow. She simply logs in and does 1-2 lessons a day. I love that she can work on her math independently with the multimedia videos, and I can check her progress by looking at her progress report.
As we head into the summer months — whether you homeschool or not — I sincerely believe that it is important for students to keep reading, writing, and practicing their math so that it is fresh on their minds. Otherwise, when school resumes, you have to reteach a lot of concepts. With a math program like the Adaptive Placement Test & Individualized Lesson Plan from A+ Interactive Math, you can see where your student has learning gaps and use the summer months to close those gaps before school resumes. It is an excellent tool that I highly recommend.
It's Affordable — Right now the Adaptive Placement Test with Individualized Lesson Plan for 40-50% off!! Click the banner below for details.

Where to Find A+ Interactive Math
Facebook: https://www.facebook.com/APlusTutorSoft
Twitter: https://twitter.com/aplustutorsoft
Pinterest: http://www.pinterest.com/aplustutorsoft
Also, check out Top 12 Reasons to Use the Adaptive Placement Test with Lessons for more information!


Other Posts You Might Like
This Post Has Been Viewed 46 Times