Art is one of the subjects that usually gets neglected in our homeschool because this Mama isn't artsy nor does she like messes. Yet, cultivating an appreciation for good art work and developing artistic skills and talents requires opportunities to look at and create art. Recently, my girls and I tried our hand at ARTistic Pursuits' Early Elementary K-3, Book 1: Introduction to the Visual Arts.
What is ARTistic Pursuits?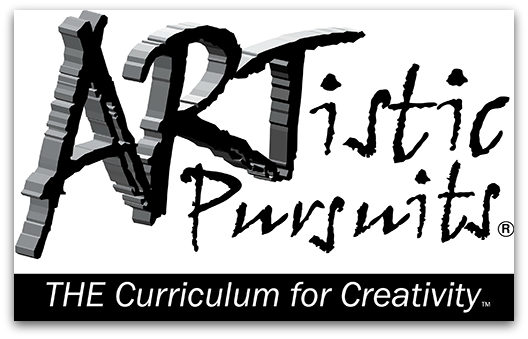 ARTistic Pursuits
is a homeschool art curriculum for children from preschool through high school. Each book is designed to teach children how to approach art in a creative way using critical thinking skills as well as their imaginations. Children learn art techniques as well as art history and appreciation as they use real art tools and materials. Each book contains a list of materials needed for the particular projects you'll be doing.
With ARTistic Pursuits, there's an emphasis on developing observational skills and creativity. Children are not copying from an instructor but creating their own art from their imaginations and observations.
How We're Using ARTistic Pursuits: Book 1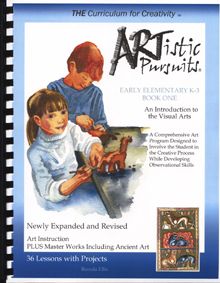 I have been using
Early Elementary K-3 Book 1: An Introduction to the Visual Arts
 with my girls, ages 6, 4, and 2 1/2. There are 36 lessons in the book with corresponding projects. Each lesson consists of art instruction, a brief picture study by a famous artist, followed by the opportunity to create your own original works of art.
We have an Art lesson one day a week although arts and crafts are pretty popular activities for the girls to do on their own (This Mama does not (willingly) do crafts.). On Art day, we sit around the kitchen table, and I read aloud the lesson. Sometimes there are questions to answer, an exercise to do, or we will discuss the topic a little more in depth.
Then, we hone our observational skills with a picture study by a master. The art work is in full color. There are accompanying questions in the book that we answer. Both the art instruction and picture study take about 10-15 minutes.
Afterwards, I will introduce the art project, including explaining any techniques and new materials or tools. The project is designed for the child to apply what she has learned, yet she has the opportunity to use her own imagination to produce a unique work of art. Each child works independently to create her own art project. This part can take anywhere from 30 minutes to an hour depending how elaborate or engaged the children are in their project.
A Closer Look at ARTistic Pursuits Book 1
Book 1 is divided into three parts:
What Artists Do: An artist's activities (composing, drawing in color, making landscapes), materials (acrylics, watercolor paints, pencils), and subjects (portraits, still-lifes, figures)
What Artists See: The elements an artist uses (shape, form, line, color, space)
Where We Find Art: This section focuses on ancient art and where it has been found (caves, churches, pyramids, on tapestries) and is designed to help children expand their ideas about art.
Here's a glimpse at the Table of Contents:
My Takeaway
As I've mentioned already, I am not an artsy mom. I adore art history but actually doing art with my kids makes me a little nervous because I'm never sure what to do.  ARTistic Pursuits removes the guess work from planning and preparing for Art. All I have to do is purchase the necessary materials, which are listed in the front of the book, and open the book and go.
You don't have to go in order but can pick and choose lessons according to your interest and materials on hand. I really like how the art lessons coincide with our study of Ancient History this year. 
I also like that the books are non-consumable, so we can reuse them year after year.
With little ones, I am very involved with the art projects, especially when non-washable materials are being used. I can see that as my children mature ARTistic Pursuits will be great independent work.
My kids really look forward to Art time each week and so do I! I am drawing, painting, and learning right along with them. I love how we don't just draw: we learn how to look closely and observe artwork; we learn new techniques; and we use a variety of art materials. It's creativity at its best!
As you plan for the upcoming school year, I would highly recommend considering ARTistic Pursuits for your Art curriculum. It's easy to use, thorough, and fun.
Connect with ARTistic Pursuits
If you'd like to learn more or order your own book, visit ARTistic Pursuits. You can also find them on Facebook. 


This Post Has Been Viewed 133 Times