My oldest daughter started reading when she was 4 and is now a voracious reader. Her younger sister, however, has struggled with learning how to read. We've tried several reading and phonics programs, but none have been successful. While many homeschool moms would advise me to hold off on instruction, Cora is determined to learn how to read and for a child with such a desire, it's important, I think, to do what I can to help her. So, when offered the chance to review First Start Reading from Memoria Press, I jumped at the opportunity. In exchange for my review, I received hard copies of the First Start Reading Teacher's Book and Books A, B, C, and D.
What is First Start Reading?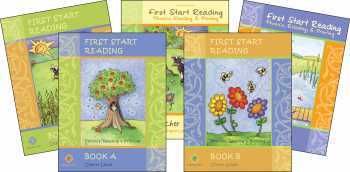 Memoria Press is a Classical Christian curriculum company, and First Start Reading is their latest phonics program for kindergarteners. It covers phonics, reading, and printing, focusing on the following skills:
Correct pencil grip and letter formation
Mastery of one sound for each vowel and consonant
Mastery of short and long vowel sounds, 3-letter words, and common words
The 310-page Teacher's Guide includes helpful tips, assessments, as well as phonics syllabi and lesson plans for all 4 student books. Each student book builds on the next, using blending, tracing, and writing words to help the student attain each of the 3 skills listed above.
How We're Using First Start Reading?
Cora and I work together on First Start Reading about 3-4 days a week. Because she's only 4-1/2, I don't push her to sit down and work every day. Most of the time, she approaches me and asks if she can "do her reading" with me. Like most young children, Cora has a short attention span, so the brief lessons in First Start Reading have helped her stay focused and work diligently for a short period of time, usually between 10 and 15 minutes.
We usually work on First Start Reading in the afternoons while her older sister reads independently and younger sisters nap. That is when she has my undivided attention. Currently, we are on Lesson 15 of Book A and still going strong! We plan to continue through each lesson book until we finish.
A Peek at Book A of First Start Reading
Here's an overview of the first book in the First Start Reading series:
1. Introduction & Letter Name and Sound
Most lessons begin with the introduction of a new letter name and sound, indicated by 2 or 3 pictures. For example, Lesson 2 introduces Aa and /a/ and asks students to identify and comment on the two pictures, an apple and an ax.
2. Ear Training
Then, there's opportunity for ear training in which the teacher reads a list of words and asks which ones begin or end with the /a/ sound. My daughter loves this exercise. It's been really good for her to listen carefully to the sounds.
3. Letter Formation
Before even starting writing, the student makes several capital A's in the air with her index fingers, and there's a thorough discussion of how the letter is formed. Then, the student practices printing capital A's. The teacher checks for correct pencil grip and formation and stars the best ones. This exercise is followed by another short instruction on letter formation, this time with the lower case a, and another chance to print lower case a's.
The lesson concludes with time for the student to color the pictures and then draw their own picture of something beginning with the a sound in the space provided.
My Takeaway
1. I really like how First Start Reading combines reading, phonics, and handwriting: 3 separate subjects that can very easily go together. This integrated approach allows the student to print the words she is learning to read, which helps with spelling and fine motor skills. There's no need for a separate handwriting program because the student writes as she learns each new word.
2. The emphasis on proper pencil grip is really important. If children do not learn how to hold their pencils properly, they will struggle with writing later. In every lesson in First Start Reading in Book A, the teacher is instructed to check for correct pencil grip.
3. First Start Reading is open and go. There's no need to plan ahead or do any prep work. You are given a script to follow, and all the instruction needed is offered in the Teacher's Guide. As a mom of many, I don't have time to plan and prepare lessons for every child. With First Start Reading, I don't have to. It's conveniently prepared for me.
4. My daughter really likes the space for her to draw, and I love to see her use her imagination and new phonics knowledge in an artistic way. This is one of her favorite parts of First Start Reading.
5. I like how quickly the student is learning how to read new words. By Lesson 3, the words I and am are introduced, and the student is taught the concept of blending. By Lesson 5, she is able to read a complete sentences: I am Sam. It is highly motivating for a child to be able to read independently.
6. First Start Reading is very affordable. The entire set, including Teacher's Guide ($14.95) and Books A, B, C, and D ($7 each), costs $42.95. Compared with other phonics curricula, First Start Reading is a steal.
All in all, I have been very pleased with First Start Reading. It's enjoyable, thorough, and appeals to little ones with short attention spans and moms with minimal time for lesson planning. If you're looking for a comprehensive reading, phonics, and handwriting program all-in-one, then check out First Start Reading. It may be exactly what your homeschooler (and you) need.
Connect with Memoria Press

Facebook: https://www.facebook.com/memoriapress
Twitter: https://twitter.com/MemoriaPress
Pinterest: https://www.pinterest.com/memoriapress/
Google+: https://plus.google.com/u/0/+Memoriapress1/posts
Instagram: https://instagram.com/memoriapress/


This Post Has Been Viewed 471 Times